HAVE YOU SEEN AMY?

FOR ANY VALID INFORMATION LEADING TO HER RECOVERY. CALL CRIMESTOPPERS AT 1-800-442-8477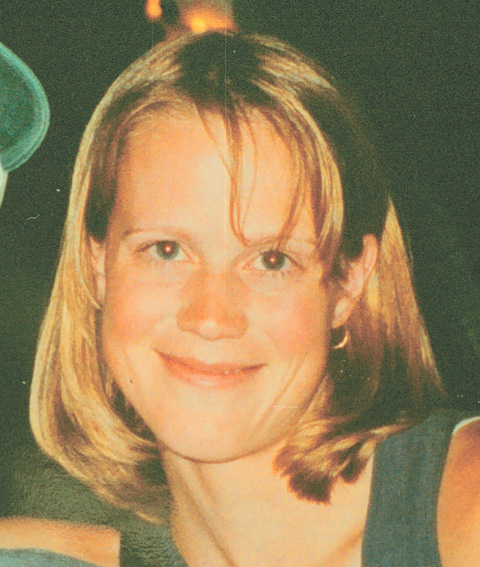 AMY WROE BECHTEL
**Possible Abduction**
Amy Wroe Bechtel was last seen Thursday July 24th, 1997 southwest of Lander, Wyoming on the Loop Road between Sinks Canyon and South Pass.
At the time of her disappearance Amy was 24 years old, 5'6", 115 lbs. with shoulder length blond hair, blue eyes and athletic build. She was wearing a yellow tank top, black shorts, Adidas Trail Response running shoes, Timex Ironman Triathalon watch and a small double band wedding ring.
Amy's car was found on the Loop Road near a small road where she had started her run. Her keys were found in her car, and her green Eagle Creek wallet is missing. Anyone having traveled in the Shoshone National Forest between July 24 and August 1 is requested to call the Fremont County Sheriff's department with any information.
The Amy Wroe Bechtel Recovery Headquarters has been established in Lander, Wyoming, and a fund to help cover the costs of the search efforts has been set up at a local bank. Donations can be sent to:
Amy Wroe Bechtel Recovery Account, c/o Central Bank and Trust, P.O. Box 70, Lander, WY 82520
Please contact Crime Stoppers at 1-800-442-8477
or the Fremont County Sheriff at 307-332-5611 if you have seen Amy or noticed any suspicious vehicle, person or circumstance on or since July 24th in Lander, Wyoming or the surrounding area.
You can also send email to nels.wroe@shlgroup.com OR amysearch@fpcg.net
---
Additional News and Information

KTWO/MSNBC -- July 29th, 1997 -- The search continues Tuesday for a missing Lander woman although officials say they have very few clues.
KTWO/MSNBC -- August 1st, 1997 -- Sheriff fears foul play may be involved
Associated Press -- August 5th, 1997 -- Investigators interview Bechtel acquaintances
Powell Tribune -- August 5th, 1997 -- Birthday party on hold as DCI agents join FBI
Powell Tribune -- August 5th, 1997 -- Recovery Fund sets up $10,000 reward
Associated Press -- August 7th, 1997 -- Search warrant issued for pickup, home of Bechtel's husband
Wyoming State Journal -- August 7th, 1997 -- A diverse army works toward common goal searching the mountians
Associated Press -- August 8th, 1997 -- Woman's friends, relatives blanket region seeking information
KTWO/MSNBC -- August 8th, 1997 -- Search may be cut back
KTWO/MSNBC -- August 10th, 1997 -- Search efforts scaled back
Associated Press -- August 14th, 1997 -- Fremont sheriff may get emergency fund
Associated Press -- August 20th, 1997 -- Nothing incriminating taken from Bechtel home
Associated Press -- August 21th, 1997 -- Search of Bechtel's residence revels no clues to her disappearance.
Associated Press -- August 22th, 1997 -- Search for missing Lander woman continues locally, grows thin without clues
KTWO/MSNBC -- September 3rd, 1997 -- Investigators are hoping pictures from space may help in Bechtel case
KTWO/MSNBC -- September 8th, 1997 -- The search goes on
Associated Press -- September 16th, 1997 -- Two fundraisers are being planned for later this month
Associated Press -- September 17th, 1997 -- Lander case prompts talk of other unsolved cases
Associated Press -- September 22nd, 1997 -- Brother of missing Lander woman urges brother-in-law to talk to authorities
KTWO/MSNBC -- September 28th, 1997 -- Rock climbing fund raiser for Amy Bechtel
Associated Press -- September 30th, 1997 -- Investigators seeking man who reportedly followed Bechtel
KTWO/MSNBC -- November 19th, 1997 -- The search for Amy Wroe Bechtel continues
Associated Press -- December 3rd, 1997 -- FBI keep Bechtel's family up to date on status of search for her
Associated Press -- January 22nd, 1998 -- Authorities will not get images from Mir in search for missing woman
Associated Press -- Feburary 3rd, 1998 -- Relatives of missing woman hope TV appearance will yield information
Associated Press -- Feburary 23rd, 1998 -- Police say relationship with husband has slowed investigation
Associated Press -- March 17th, 1998 -- Bechtel investigator says fugitive's alibi checks out
Associated Press -- April 2nd, 1998 -- Some Bechtel sightings traced to homeless woman
Associated Press -- April 3rd, 1998 -- Florida authorities unable to help with Bechtel sighting
Associated Press -- April 10th, 1998 -- Hair sample being collected to compare against missing Lander woman's
Associated Press -- April 29th, 1998 -- Suspicions growing regarding missing woman's husband
Associated Press -- June 12th, 1998 -- Lawmen to mix search for missing woman with training exercises
Associated Press -- June 20th, 1998 -- Weather hampers latest search for missing jogger
Associated Press -- October 26th, 1998 -- Bechtel case to be shown on "Unsolved Mysteries"
Associated Press -- April 19th, 1999 -- Lander woman's disappearance on Unsolved Mysteries
Associated Press -- June 24th, 1999 -- Authorities have new leads in Amy Wroe Bechtel disappearance
Associated Press -- July 29th, 1999 -- Bechtel promises cooperation
Powell Tribune -- August 1st, 1999 -- Wroe family asks husband for information
Powell Tribune -- August 1st, 1999 -- Possible grave site found
Powell Tribune -- August 2nd, 1999 -- Steve Bechtel response to Wroe family
---
Return to the Farpoint Computing Group